Welcome To NCMotors - North Essex's Finest Independent Motor Mechanic
NC Motors - For all your Car, Van or Lorry servicing and maintenance

N C Motors is a small, friendly, family run business which has, over the last 30 years, built an enviable reputation for providing superb vehicle servicing, repairs and maintenance at a sensible price.

We have a fully fitted workshop, complete with two post vehicle lifts which can handle cars and vans up to Transit van size. We specialise in diagnostics and have dealer level tools for most makes of vehicle .Our mobile workshop vehicle can undertake all forms of servicing, maintenance and repairs at your home, your workplace or at the roadside if you are unlucky enough to break down within our Essex catchment area.
What Do We Do?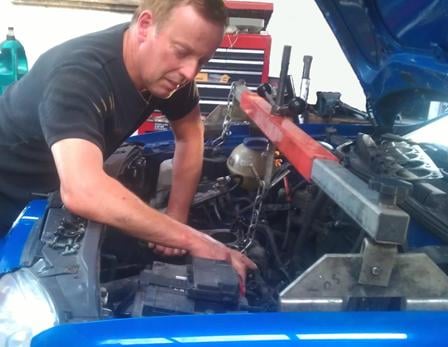 We are happy to undertake all types of vehicle repairs, servicing and maintenance including:
Routine Servicing of all makes and models as per manufacturer's specifications
Regular Contract Maintenance
Fleet Maintenance for vehicles up to 7.5 tonnes
MOT Pre-Inspections and delivery to a local officially approved MOT testing centre
Full and Partial Engine Rebuilds
Cambelts, Clutches, Brakes, Batteries etc
Engine Diagnostics using official manufacturer's software
Electrical System Diagnostics and Repairs
Electronic Fault Code Reading and Correction
Air Conditioning servicing and recharging
Welding and bodywork
Key Coding and Recoding
We specialise in Classic Car engine tuning and repairs
Unless you are required to use the manufacturer's original parts in order to satisfy warranty conditions, we are always happy to offer you the choice of using compatible parts if you prefer to do so.
We never undertake unnecessary work on any vehicles left in our care. If, during the service we discover any additional problems with your vehicle, we will immediately contact you to discuss your options. If we do find that we have to fit any major parts, we are always happy to return the old part to show you that it really did need replacing . We also now have the facility to email pictures or a video evidence of any parts in situ that need replacing.
Qualifications
NC Motors has been run by Nick Cresswell since 1981 and most of the work is undertaken by Nick himself but he has recently been joined by his two sons Ed and George . Ed was voted as IMI (Institute of Motor Industry) Apprentice of the Year in 2015 by his college . George and Edward have both completed their apprenticeships and are fully qualified Level 3 technicians.
Nick is a fully qualified and time served Motor Mechanic and Auto Engineer who has been established for over 30 years.
Nick is a Member of the IMI as an ATA accredited technician :
Nick is a Crypton Approved Technician
Trained to diagnose and repair Engine Management Systems, ABS systems, Airbags and SRS (Supplementary Restraint Systems)
Trained to use specialist "Dealer" tools and software to undertake work that would normally be considered "Main Dealer Only" work.
In 2010, Nick was a semi-finalist in the National Top Technician Competition held at the Honda Institute in Slough, having previously been the runner up in the Eastern Counties heat. The Top Technician award is an annual event started in 2003 that aims to find the UK's top vehicle repair expert and requires entrants to answer a mixture of multiple choice and open questions covering every aspect of advanced vehicle repair and diagnostics.
Contact Us
To book any of our services, please contact us on:
Tel : 01206 322825
Mob: 07831 858348
NC Motors
1 Hunters Chase
Ardleigh
Colchester
Essex
CO7 7LW
VAT No: 449 0191 47