Air Conditioning Servicing and Recharging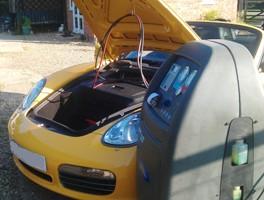 Using the latest technology, we have specialised equipment which allows us to vacuum, leak test, and regas your air conditioned/ climate controlled system automatically.
To conform with current legislation Nick has undertaken the statutory training to enable him to handle and work with refrigerant .
We then dispose of the existing coolant in accordance with the standard environmental regulations.
Your air conditioning unit is then recharged with fresh coolant, all in as short a time as 30 minutes.
We can do this either at our workshop or at your home or work address